N. R. Bhanumurthy (On Deputation)
Professor
---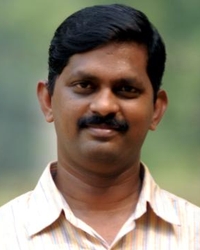 N R Bhanumurthy is currently working as Professor at National Institute of Public Finance and Policy, New Delhi. Prior to joining NIPFP, he worked as Assistant and Associate Professor at the Institute of Economic Growth (IEG), Delhi. He has worked as a macroeconomist at UNESCAP, Bangkok and UNDP Regional Centre for Asia-Pacific region, Colombo. He has been a Visiting Fellow at Masion des Sciences d'la Homme, Paris, France, and at Mcgill University, Montreal, Canada. He has also been a consultant to ILO, the World Bank, and the Asian Development Bank. Currently, he is the Secretary of the Indian Econometric Society and Managing Trustee of Indian Economic Association Trust for Research and Development. He is also associated with Government committees. He has a Masters and M.Phil from the University of Hyderabad, and a Ph.D on international finance from the Institute for Social and Economic Change (ISEC), Bangalore.
Research areas
Development economics, Macro-monetary economics, International money & finance, and Macroeconomic modeling.
Membership in committees and commissions
Member, Board of Studies, School of International Studies, JNU, Since September, 2015.

Member, Board of Studies, IP Univrsity, Delhi, since July, 2015.

Member, Central Monitoring Committee (CMC) for release of Revenue Deficit Grants under the FFC Award, Ministry of Finance, since April, 2015

Member, Focus Group on Revenue Forecasting, Tax Administration Reforms Commission, GoI, 2014-15.

Member, Advisory Committee on National Accounts Statistics, CSO, Ministry of Statistics, 2012
Member, Expert Group to Develop a Methodology for Computing an Index of Infrastructure Development, Ministry of Statistics, since September 2011 (Chairman: Chief Statistician of India)
Member, Economists' Forum, FICCI, New Delhi, since September 2011
Member, Working Group on Issues Relating to Growth and Development at Sub-national Level for the 12th Plan, Planning Commission, since May, 2011 (Chairman Dr Ramesh Kolli)
Member, Expert Committee on Revenue Forecasting, Ministry of Finance (Chairman Dr Kaushik Basu) since March, 2011
Member, Working Group on Savings for Formulation of 12th Five Year Plan, Planning Commission, 2011-12 (Chairman Dr Subir Gokarn)
Member, Sub-Group on Public Sector Draft on Private Sector Saving, Planning Commission, March 2011, (Chairman, Dr Ashok Sahu)
Professional activities
Referee, RBI Working paper; Trade and Development Journal; Indian Economic Journal; Journal of Social and Economic Development; International Journal of Systems Assurance Engineering and Management; ISEC Working Paper Series; Global Business Review; RBI Occasional Papers; manuscripts from Oxford University Press; Journal of Indian School of Political Economy; ISEC Working Paper Series; Indian Economic Review.
Examiner for Ph.D/M.Phil theses from Guru Nanak Dev Univeristy, Gauhati University, IGIDR, IGNOU and Delhi School of Economics, Delhi University, and Jadavpur University.
Member of Faculty Selection Committee at BITS, Pilani, and IP University, New Delhi.
Other information
Honors and Awards
"Mahalanobis Memorial Medal (National)" award for the year 2014 by the Indian Econometric Society, for outstanding contribution to the field of quantitative economics.
"VKRV Rao Prize in Social Sciences (Economics)" for the year 2015 by ICSSR and ISEC Bangalore, for high quality research and for significant contributions to social science research in India.
"Best Paper Award', for a research paper on "Financial Globalization and Economic Growth in South Asia", awarded by Bank Indonesia (Central Bank of Indonesia) during the 12th Annual Conference on "Maintaining Stability and Strengthening Momentum of Growth Amidst High Uncertainty", held at Bali, Indonesia, 30-31st, August, 2018
Curriculum vitae
Download CV
---