Rita Pandey
Professor
---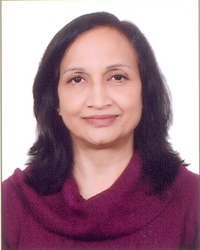 Rita Pandey is a Professor at the National Institute of Public Finance and Policy, New Delhi. Her primary area of research is environmental economics. She has been a member of the Technological and Finance Standing Committee to implement the Montreal Protocol, appointed by the Ministry of Environment and Forests, Government of India, and was a visiting fellow at the School of Forestry and Environmental Studies, University of Yale, USA. Her research interests span integrating environmental concerns into policy analysis focussing on industry and urban transport through the use of environmental economics, and tools and measures of public finance. She has undertaken a broad range of studies examining the different links between environment and the economy and has worked extensively on market based instruments to protect and improve environment including the potential benefits of using tradable permits, non-tax and differential tax instruments for sustainable development. She has obtained her Ph.D. in economics from Indian Institute of Technology Kanpur.
Research areas
Environmental economics and policy analysis with a focus on Biodiversity Policy and Finance, Climate Finance, Economic and Fiscal Policy Instruments for Environmental protection, and Sustainable Development.
Recent publications
Professional activities
Reviewer, Journals on Environment and Development Economics and Energy; Current Science. Ph.D thesis examiner, University of Calcutta. Panelist, at Discussion on "Issue Before The Fourteenth Finance Commission with respect to Environmental and Resource Management", Madras School of Economics, Chennai, March 9, 2013.
Curriculum vitae
Download CV
---