Supriyo De
RBI Chair Professor
---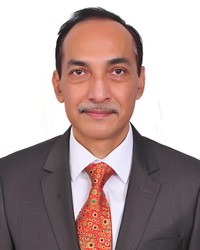 A versatile macro-fiscal, financial and tax economist, Supriyo De has over 27 years of experience in policy, operations, and research in multilateral institutions, government and academia. Prior to joining NIPFP as RBI Chair Professor, he was Commissioner of Income Tax, Advisor in Economic Advisory Council to the Prime Minister, and Senior Economist in the World Bank, in that order. He has expertise in fiscal policy, public finance, sovereign credit ratings, capital flows, remittances, tax policy and tax administration. His analytical skills for research projects and macro-fiscal forecasting abilities are amply demonstrated in various World Bank publications such as Global Economic Prospects, World Development Report, Kazakhstan Public Finance Report, Mongolia Country Economic Memorandum and Migration and Development Briefs. He played key roles in strategic planning for development, policy dialogue and advising senior management in national and international contexts such as for the BRICS and G20. His ability to translate rigorous analytical work into policy reforms was instrumental in Nigeria's and Ethiopia's remittance estimates for debt sustainability frameworks and tax incentive rationalization in India. His ability to harness innovative policy solutions and convene diverse actors resulted in multi-stakeholder dialogues at the UN on Financing for Development. He is widely published in journals and books. His technical assistance and capacity building resulted in significant progress in Egypt's tax expenditure analysis and for training government officials at NIPFP, the World Bank and Duke University. He holds a Ph.D. in Economics from the University of Sydney and Master in Economics from Yokohama National University. He had joined the Indian Revenue Service in 1995.
Research areas
Fiscal Policy, Public Finance, Country Creditworthiness, Capital Flows, Remittances, Tax Policy, Tax Administration
Current research
Country Creditworthiness and Capital Flows, Direct Tax Reforms
Recent publications
Professional activities
Official reports
Economic Survey of India. 2010-11, 2011-12 and 2012-13. Oxford University Press, New Delhi.
Science Technology Innovation: Australia and India, 2013. Australian Academy of Technology Sciences and Engineering & Australia India Institute, Melbourne.
The BRICS Report: A Study of Brazil, Russia, India, China and South Africa with special focus on synergies and complementarities. 2012. Oxford University Press, New Delhi.
Other information
Invited to deliver
Assam Administrative Staff College-NIPFP Course, "Budget Management", 2022
The World Bank, "Remittance Forecasting", Core Courses, 2017, 2019
Duke University, "Development Strategy, Fiscal Capacity and Tax Policy" Lecture, 2017, 2018, 2019.
National University of Singapore, (1) "Indian Economy", 2013; (2) "Goods and Services Tax" Lectures, 2011.
Yokohama National University, "Fiscal Policy in India" Lecture, 2013
National Institute of Public Finance and Policy, India, (1) "Tax Policy and Tax Reforms in India" for Course in Public Economics for South Asian academics, 2012; (2) "Semi-autonomous revenue authorities" in Course for Sri Lankan officials, 2008
National Academy of Customs, Excise and Narcotics, India, "Fiscal Policy, Monetary Policy and Balance of Payments" Lecture, 2012
National Academy of Direct Taxes, India, "Development Strategy, Tax Policy and Tax Administration" Lecture, 2011, 2012
Curriculum vitae
Download CV
---