Shruti Tripathi
Economist
Phone

26569303 Ext -134, 208
---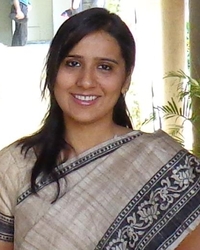 Shruti Tripathi is an Economist at the NAtional Institute of Public FInance and Policy, New Delhi. She is also affiliated with Macro/Finance group at NIPFP. She has a Ph.D. from Indira Gandhi Institute of Development Research and her Ph.D thesis was titled Dynamics of Oil Prices in Emerging Market Economies.
Research areas
Monetary Economics, International Finance and Macro Economics, Dynamic Equilibrium Modeling and Macro Public Finance
Recent publications
Professional activities
Reviewer, Economic Modeling, International Review of Applied Economics, Macroeconomics and Finance in Emerging Market Economies.
Other information
Programme Coordinator for Training programme for the IA&AS officer trainees (2014) batch and officers from Royal Audit Authority, Bhutan, 2015
Part of three member team constituted for Comptroller and Auditor General Training and assistance programme, ongoing.
Curriculum vitae
Download CV
---