Lekha Chakraborty
Associate Professor
---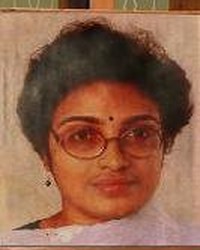 Lekha S. Chakraborty is an Associate Professor at NIPFP. She is also affiliated as Research Associate with the Levy Economics Institute of Bard College, New York.
She is the pioneer economist who has worked for institutionalising Gender Budgeting in India, with Chief Economic Advisor, Ministry of Finance, Govt of India in 2004.
She is the recipient of Infoys best thesis award from Indian Institute of Science (IISc) Bangalore.
She is the author of Fiscal Consolidation, Budget deficits and Macroeceonomy (Sage Publications). She is also the co-author of the book "Social Sector in Decentralised Economy: India in the Era of Globalisation" (Cambridge University Press, 2016).
She has worked for the IMF, World Bank, the UNESCAP, the UNDP, the UN Women, and the Commonwealth Secretariat on short stints. Her work experience on macro-fiscal policy and human development spans across 7 countries, Sweden, Canada, Morocco,The Philippiness, South Africa, Sri Lanka and Mexico; and more frequently in Asia Pacific region.
She was twice, an awardee of Shastri Indo-Canada programme, from Department of Foreign Affairs and Trade (DFAIT), Government of Canada. She was visiting Professor at Carleton University (Canada), Uppsala University (Sweden) and University of Utah (on Gender, Macroeconomics and International Trade course).
She received Ph.D. in economics in 2004 from the Centre for Development Studies (Jawaharlal Nehru University), where she was also Associate Professor for one year, 2007-2008. She has papers in national and international journals.
She is a columnist in the Financial Express, and also featured in CNBC, ANI, DD News, AIR World Air Service and Rajya Sabha.
Her recent book "Fiscal Consolidation, Budget Deficit and Macroeconomy" (Sage, UK and New Delhi) has received endorsement from former RBI Governor Prof Y V Reddy and fr IMF Executive Director Fiscal Affairs, Prof Vito Tanzi.
Research areas
(1) Macroeconomics of Public Deficits, Fiscal Monetary Policy Linkages, Financial Inclusion - Microfinance. (2) Effectiveness of Public Expenditure. Gender budgeting, Human Development. (3) Fiscal Federalism, Decentralisation (4) Fiscal research on Mining Tax and Competitiveness of Extractive Industries
Current research
1. Intergovernmental fiscal transfers (IGFT) and gender equality (with Janet Stotsky IMF)
2. Effectiveness of Gender Budgeting on Gender Equality Outcomes and Fiscal Space (with Mariam Ingrams OECD) - invited for American Economic Association (AEA/ASSA) Meetings Atlanta January 2019
3. Macroeconometric aanalysis - Determining Private Corporate Investment in India (analysis using Meboot) (with Hrishikesh Vinod, Fordham University) - forthcoming in Handbook of Econometrics Volume 41 (edited by Vinod, H and C R Rao (Elsevier)
4. Macroeconomic Policy for Extractive sector
5. Fiscal forecast errors: Analysis of State Finances (with Pinaki Chakraborty) Gates Foundation, Public Innovation.
6. Tax Buoyancy : Analysis of State Finances (with Pinaki Chakraborty), Gates Foundation, Public Innovation
7. Environmental Federalism: Climate Public Expenditure and Institutional Review
Recent publications
Membership in committees and commissions
Member, International Institute of Public Finance, IIPF Germany.
Member, 'Classification of Budgetary Transactions', Chairman :Chief Economic Advisor, Ministry of Finance, Govt of India, 2004
Member, 'Segregation of Government Expenditure', Ministry of Finance , Govt of India, 2005
Member, Agency and Empowerment, for the 12th Five Year Plan (2012-2017), Planning Commission.
Member, Subgroup on "Gender Mainstreaming and Effective Accountability Mechanisms, for the 12th Five Year Plan (2012-2017), Govt. of India, Planning Commission.
Life Member, Econometric Society of India.
Member, IWG-GEM Macroeconomics, University of Utah.
Member, Economists for Full Employment (The Levy Economics Institute of Bard College, New York)
Professional activities
Lead, Asia Pacific research on Gender Budgeting for IMF
Fiscal policy for gender equality - prepared the Background paper_ Expert Group Meeting (EGM) for United Nations Secretary General's (UNSG) Highlevel Panel on Women's Economic Empowerment (WEE)
Other information
ENDORSEMENTS FOR HER RECENT BOOK
1. Dr Y V Reddy (former Central Bank (RBI Governor and Chairman, Fourteenth Finance Commission): https://www.nipfp.org.in/blog/2018/04/05/book-review-fiscal-consolidation-budget-deficits-and-macro-economy/
2. Prof Vito Tanzi (former Executive Director, Fiscal Affairs IMF). https://www.nipfp.org.in/blog/2016/12/19/fiscal-consolidation-budget-deficits-and-macro-economy/
3. Prof Pulapre Balakrishnan (former Director, Centre for Development Studies, JNU). https://www.nipfp.org.in/blog/2017/10/04/fiscal-consolidation-budget-deficits-and-macro-economy/
4. Prof Janet Stotsky (fr IMF Advisor). https://www.nipfp.org.in/blog/2017/10/11/book-review-fiscal-consolidation-budget-deficits-and-macro-economy/
Curriculum vitae
Download CV
Personal website/blog
http://www.levyinstitute.org/publications/?auth=359
---