Taxation in a Global Economy, Dublin, August 2015
NIPFP was represented in the 71st Annual Congress of the International Institute of Public Finance, on Taxation in Global Economy, at Trinity College, Dublin on August 20-23, 2015 by three research teams. Papers in four different sessions were presented at the four-day event.
In the session on Health, Kaushik K. Bhadra, in his paper on Inequality Effects of Fiscal Policy: Analysing the Benefit Incidence on Health Sector, India talked about the rare area of research.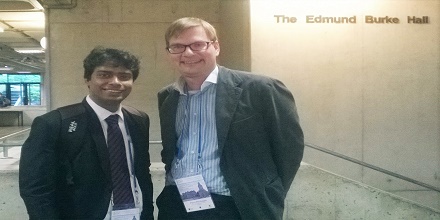 Kaushik K. Bhadra, NIPFP and Prof. Panu Poutvaara, Chair of Scientific Committee of IIPF Congress, Dublin.
Using the unit record data of recent NSS rounds on health, the paper analyses the benefit incidence of public health spending, categorised by region, gender and economic class. Morbidity (in­patient service delivery) data among quintile-­wise MPCE classes across three Indian states – Bihar, West Bengal and Kerala ­ are examined to decipher whether the benefit incidence of public spending is pro-­poor. The concentration curves revealed significant regional and gender differentials in access and utilisation of health services at sub­national levels of government of India. Kerala explicate a different scenario where poor 'voted with feet' from public sector. The co­existence of private and public service provisioning in health sector may be one of the reasons for this behavioural 'exit' in Kerala, however it is equally interesting to note the 'voice' elements when the targeting of public spending reveals more pro­-rich. This paper was also presented in the GIZ master class session.
In the session on Inheritance Taxes, Payroll Taxes, and Alternative Payment Mechanisms, Suranjali Tandon and R. Kavita Rao in their paper on Designing Policies in the Presence of Hawala Markets discussed the government instrument of customs tariffs in case of hawala markets.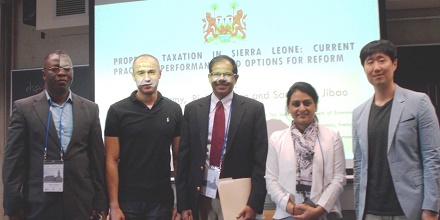 (far left) Adams Tandorswefa Tommy, University of Pretoia, Sierra Leone, (centre) Prof. Dhammika Dharampala, Chair of Scientific Committee of IIPF Congress, Dublin, (2nd from right) Suranjali Tandon, NIPFP and other participants at GIZ Master Class.
To deal with rising current account deficits, the government often uses instruments such as increase in customs tariffs. These are expected to induce an appreciation in the currency. In the presence of hawala markets which constitute an alternative payment mechanism, the control exerted by the customs tariffs is diluted, thereby reducing the effectiveness of this policy in controlling depreciation of the currency. The paper explores the impact of the existence of such a mechanism on the effectiveness of various policy instruments in influencing outcomes on the official foreign exchange markets and GDP. This paper was also presented in the GIZ master class session.
(The paper has earlier been published as NIPFP working paper.)
In the session on Taxation of Natural Resources, Lekha Chakraborty and Sahil Ravgotra in their paper on Mining Taxation and Profitability Links of Indian Firms: Evidence from Dynamic Panel Data used dynamic panel data analysis, to examine the link between mining taxation and profitability of 172 mining firms in India organised from CMIE Prowess dataset for the period of 2000­-2014 in a multivariate framework.
The estimates from Generalised Method of Moments (GMM) using Arellano and Bond (1991) method suggest that taxation and royalty are significant determinants of profitability of mining firms in India. These results challenge the popular belief that the profitability of the mining firms is largely determined by the firm level characteristics including the size, cost and capital structure and not by the public policy variables. This result has macro policy implications in terms of rationalising the mining taxation rates and a systematic shift in the mining royalty regime to market-­linked ad valorem regime.
The IIPF, founded in Paris in 1937, is the world's pre-eminent academic institution for the study and research of public policy topics with a membership of about 800 academics and public finance and macro policy makers from more than 50 countries.
NIPFP has actively participated in previously held IIPF Annual Congress - in 2012.
---